Mini-Cassia Region
BURLEY | HEYBURN | PAUL | RUPERT
Be a Part of Our Story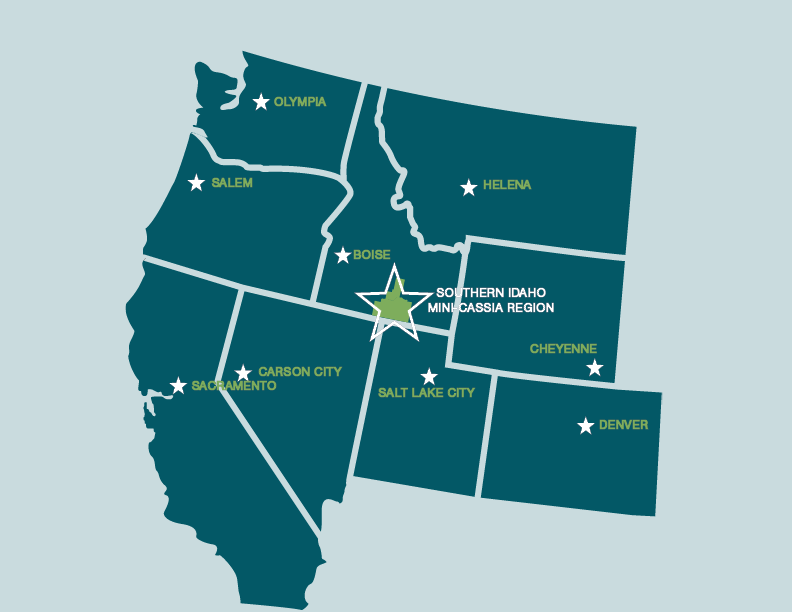 Why the Mini-Cassia Region? 
________________

Mini-Cassia is a thriving region in Southern Idaho that is ripe with opportunities for businesses looking to expand or establish a new presence. The region includes the cities of Burley, Heyburn, Paul and Rupert.
Location advantage. Central location to all major cities and ports in the Western United States. Ample logistical assets.
Mini-Cassia boasts a strong economy
Fueled by diverse industries including agriculture, manufacturing, and healthcare
A well-trained and educated workforce
The College of Southern Idaho curates workforce training programs to fit your business needs
Affordable cost of living and a very safe place to live
Unrivaled lifestyle for people who love outdoor recreation
Costs are low, but our standards are high; we value excellence
Extraordinary public-private partnerships facilitate speed to market
If you're looking to start, grow or relocate your business, Mini-Cassia offers a strategic location, a supportive community, and a business-friendly environment that can help you achieve your goals.
Economic Quick Facts
108,175
Southern Idaho's labor force
#2
Idaho is the second fastest growing state in the U.S. 
210,983
Southern Idaho's population (2021).
$58,698
Per capita personal income (2020).

Industries We're Ready For
________________



See our complete list of the biggest industries in our community.  LEARN MORE >
Industry Quick Facts
Top 3rd
Southern Idaho ranks in the Top Third
of U.S. states for food processing
30M
The region produces more than 30M pounds
of milk per day
58%
58% of electricity comes from renewable energy sources (with some of the lowest prices in the country)
#3 
Idaho ranks #3 in the nation for cost of living